Paddle Force
PADDLE FORCE is a fast-paced update of the classic pong game designed for head to head play. Score to expand your terrain until you control the entire board and win, using zany power-ups to help you along the way.
Controls
PADDLE FORCE is best enjoyed with a friend and two gamepads. You can also play with the keyboard.

How to Play
You can only move within your side of the board
Score on the opposing goal to expand your terrain.
When you capture the whole board, you win!
Hit Powerups into the opposing goal to activate them.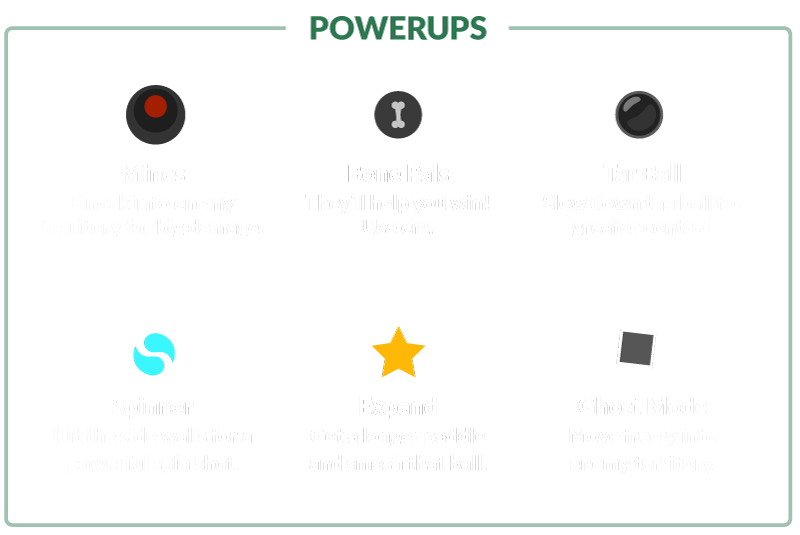 Say hi!
PADDLE FORCE is brought to you by the following fine folks. We'd love to hear from you.
Found a bug? Have feedback?
Let us know in the comments section below, and we'll do our best to get back to you as soon as possible.
Known Issues
When a gamepad is connected via USB and Bluetooth simultaneously (e.g. a PS4 controller), it will act as two distinct gamepads. If this happens to you, choose one or the other: disconnect from bluetooth or unplug from USB.
PADDLE FORCE runs best in Chrome and support for other browsers is highly experimental for now.
Sometimes, you're unable to select gamepads for both players on the splash page. However, this does not affect your ability to use them in-game. Choose gamepad for one player and keyboard for the other, and you will be able to use both gamepads when the game starts.
Download
Click download now to get access to the following files:
PADDLE FORCE-1.0.0.dmg
87 MB
PADDLE FORCE-1.0.0.msi.zip
90 MB
PADDLE-FORCE_1.0.0_amd64.deb
74 MB
Comments
Log in with itch.io to leave a comment.
The AI is destroying me. Still had fun though :)
Thanks for the awesome game. Loved of the different options of power ups. Bones are super OP, but I guess it would help if I stopped accidentally giving my opponent power ups. Had way more fun with this one than I expected to. Fantastic.
brought some power a gamepads and my mac to work, had an absolute blast!
Guys, my friends at the office loved this game. Lovely twist on the original pong and furthermore beautifully executed.
Hey, we are happy to hear it! Were you able to play with gamepads?
Excellent twist on a classic, flobotron. I've become really attracted to small, local multiplayer games like this lately and I think this is the best one I've found on itch.io.

Granted, your foundation here is a golden classic, but you've twisted and improved the rules and mechanics to the point where it feels like a truly new game. Congrats on the release of a fantastic game! <3

For some reason I can't download it using the itch.io client. How do I fix this?
Hey Pootis, I put the Windows and Mac downloads in a Google Drive folder, let me know if these work for you.
Also, do you mean the installable itch.io client? Are you seeing some kind of error when you try?

Yes. When I install it, it gets stuck at about 75% in the install phase. Also, if I quit the client and open it back up, it will have the Lauch button but 'no executables were found' and I can't uninstall it for some reason.
EDIT: The zip file works! Thanks a lot for the help!
EDIT 2: Comodo Firewall keeps saying that the game needs to gain an elevated privilege, it's saying that PADDLE FORCE is trying to execute PADDLE FORCE and that it wants to modify a protected registry key. This seems to freeze the game.
EDIT 3: I just have to allow everything! By the way, you did an amazing job at upgrading Pong! Keep it up and thanks for the help!
Thanks Pootis. Glad you enjoy it :). The warnings you saw must have been from the install process because of the wrapper we used to build the game. If you have some screenshots to help us understand it, we'd love to see them.